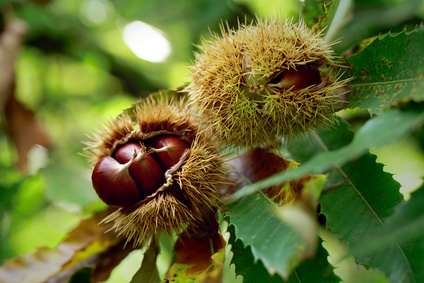 THE "CHÂTEAU DES ROURE" (ROURE'S CASTLE)
The Chateau des Roure, a 15th Century fortress, was built at the boundary between Languedoc and Vivarais to guard the access to the natural arch over the River Ardèche, the Pont d'Arc.
It is situated in the extreme south of the Department of Ardèche, at Labastide de Virac in the heart of the Ardeche Gorge, between the Caverne du Pont d'Arc and the Aven d'Orgnac. Here you can discover its history, notably during the Wars of Religion, and also its silk farm, where living silk worms are bred. Working with silk thread from the cocoon to finished material is demonstrated in the Ecomuseum of Silk.
The 3600 panoramic view from the parapet walkway is unforgettable.
THE "CHÂTAIGNERAIE" MUSEUM
The museum will take you away into the past of the « bread tree » that saved lives of men and animals in former times in the Cevennes. You'll find all about the culture of the chestnut tree which is typical for our region. The exhibition of ancient tools serving maintenance of the plantation or gathering sweet chestnuts or conservation treatment of the fresh fruit or shelling of the dried fruit is unique... And there are several objects and furniture of daily life in former times, always made of chestnut wood : the famous « berles » of the 18th century, cupboards cut from the hollowed trunk itself.
In our days, the sweet chestnut is representing an economical factor . The department Ardèche is its most important producer in France.
SILK MUSEUM IN LAGORCE
Mayflies, hatching eggs, greedy worms, mysterious pupae...and in amongst all this variety, the incredible mulberry silkworm bred on the farm with its unique, legendary and southern French silk cocoon!